KYC Policy
One of the top priorities of Aussie Play is the safety of our users. Thus, we serve under KYC Policy using the latest technology and upgraded software to detect illegal operations and illegal activities. The team of specialists does everything possible to ensure that users' private data, as well as the funds in the personal account, are under reliable protection. Every user should also remember that an Aussie Play account is for personal use only and cannot be used by third parties or for illegal activities. Thus, fraud and money laundering are unacceptable in our online service and we do our best to fight them. All our actions for verification are carried out under international standards for preventing illegal activity, also referred to as Customer Due Diligence, as well as to protect the interests of customers.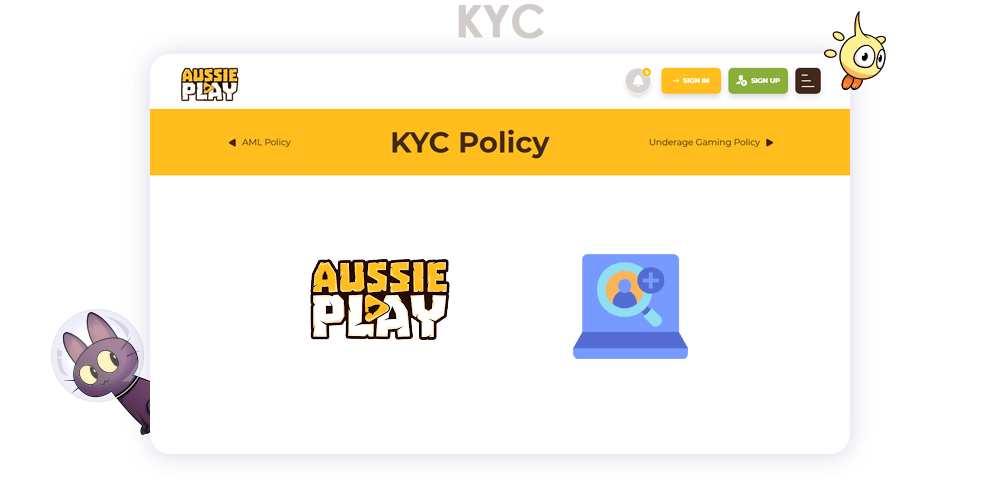 Identity verification
At Aussie Play Casino, each user is subject to obligatory identity verification, as it provides an opportunity to use our service on full terms, making deposits and withdrawals. In order to confirm the identity, the user needs to provide one of the valid identity documents that confirm his private data (first and last name, gender, date of birth, country, residence):
ID Card;
Passport;
Bank statement;
Utility bill.
We reserve the right to collect the user's identification data at any given time for KYC Policy purposes.
Card Verification
In order to proceed with financial transactions it is essential to go through card verification in accordance with the instructions available on our service. The user is to provide the front number of the card, the name of the cardholder, and its expiration date.
With regard to withdrawing the gain from the service, the user is also required to make an additional confirmation. Upon requesting a bank wire withdrawal, please send us a Wire Instruction provided by your bank of choice. Bitcoin payouts are made possible by submitting your BTC wallet screenshot prior to requesting one.
Documentation Verification
With regard to verifying the account at Aussie Play Casino, users may provide other authorized identification documents:
Passport with valid personal information;
Utility bill that states the valid current address of the user;
Other documents.
In order to verify the company, it must provide one of the following documents:
Valid Chamber of Commerce extracts;
Notary deeds.
It should be admitted that all copies and scans must be made and archived securely.
Identity Authentication
With the purpose of verifying the authenticity of the provided user information and documentation, Aussie Play Casino guarantees that all the proper measures are met. For this, we implement a double check information procedure, using all legal methods for information authentication. Keep in mind that Aussie Play Casino reserves the right to perform an investigation on any user that has been placed under suspicion in fraudulent or risky activities.
Routine Authentication
We reserve the right to perform users' personal account verification that is aimed at verifying a user's identity on a regular basis, and at any given time, under its sole discretion.
This may occur when the user's activity or financial transactions are found suspicious or fraudulent, or when the user's information has been changed. Also, Aussie Play Casino reserves the right to require additional valid current verification documentation from its users at any given time, even if such documents have already been presented to the company previously.
We guarantee that all user personal identification information is collected, shared, stored, and protected with industry-standard SSL encryption in accordance with the Privacy Policy.
Upon the completion of the user verification process, Aussie Play Casino may disclaim itself from any potential legal liability. This includes, but is not limited to, any instance where its services may be used to commit illegal or fraudulent activities.