Privacy Policy at Aussie Play Casino
Aussie Play online casino has its own rules of Privacy Policy. This indicates that the main purpose of our company is to protect the personal, contact and other data of each player on our gaming platform. This policy states the methods, means, and tools used to collect, process, transfer, and store the details. This is necessary to improve the functioning of the site, develop new products, and provide better services and promotional offers. By opening the website, and registering as a casino customer, you automatically agree to our Privacy Policy. Please do not use our services if you do not agree with them.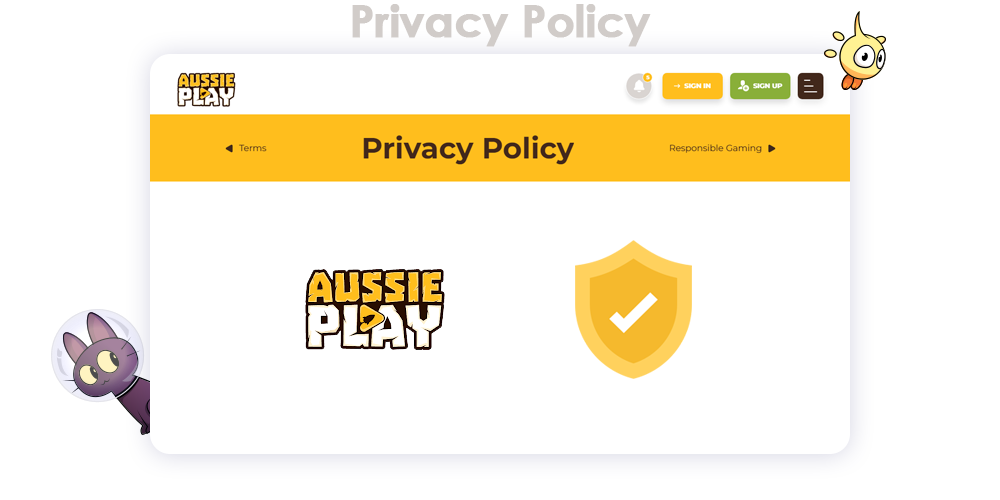 Changes and Additions of the Current Privacy Policy
We ask you to note that for some periods, the rules of the company policy are subject to change, as well as the addition of new ones. We have the full right to make any innovations without the notification and consent of our players. In case you continue to use the services, you agree with possible changes in rules. In order to avoid conflicts and misunderstandings, we recommend that you regularly check the Privacy Policy page to see what updates, if any, have been made. Still, if you want to file a complaint about your personal information, you can do so under Article 77 of the GDPR.
Personal Data of Customers
The online platform employs the latest encryption services and tools to keep your details safe and secure. We also have a zero-tolerance policy, which means that any fraudulent activity is stopped immediately.
The basic rules of Aussie Play Casino's customer personal data policy:
It is the customer's responsibility to safeguard and disclose personal information.
If you find any signs of compromise, you must change your password and contact support.
You are not required to provide data of any kind, but if you do, you will not be able to use certain services and features.
When you register, you agree that we have the right to record calls and store them for some time.
You automatically agree to any dissemination of data outside of your country of residence, which has been collected in the course of accessing our facilities.
Your identity details are only disclosed to third parties outside of the company following policy.
In any case, we take full care of your safety and take the necessary measures. This means that all our partners, software providers, affiliates, and agents comply with all applicable rules, regardless of their location.
Personal Customer Details Transfer for Aussie Play Casino
When you create an account on our website and use our services, payment tools, and so on, we collect the following types of information:
Identifying: customer name, email address, phone number, actual address;
Payment: transaction history, card/account information, billing information;
Administrative and traffic: source IP address, time and date of access, language used, web page opened, type of browser used, software crash reports;
Data from online service providers;
Data from the payment systems you use;
Information from third-party e-commerce services, and more.
We may collect and use all of the above as described in the rules of the Privacy Policy.
How We Use Collected Customer Information
All personal information we collect is used for specific company purposes:
To improve the performance and quality of the site's services;
To offer better and more personalized bonuses and promotions;
To send out marketing messages and advertisements;
For the purpose of partner search and collaboration;
To conduct surveys among the customers of the platform;
To provide security and timely support;
To process transactions faster;
To fulfill assigned tasks and specific business goals;
To share data with our partners;
To conduct contests;
To monitor financial transactions for possible irregularities;
To verify the security and validation of your registration details.
However, we can assure you that we do not use your personal details for other purposes that are outside of our Privacy Policy.
Advertising Messages
The field of marketing communications with customers, sending promotional messages about bonuses, products, and so on, is regulated by CAN-SPAM law. Because of this, the platform has certain rules for sending messages and collaborations. In order to keep you up-to-date with all of our latest novelties, we suggest that you enable promotional emails. When a new product appears on our site, you will be notified immediately. You always have the option to reject this feature or unsubscribe from advertising. You can do this in your account settings or by contacting our support staff.
If you opt out, we will not use your personal information, including your email address or telephone number, to keep you informed of promotions or other purposes.
Protecting Information of Website Users
We take the protection of your data seriously and responsibly. That's why the platform regularly checks for malware, technical and system failures, fraud, and so on. Only authorized employees, who have been trained and confirmed to be qualified, have access to customer details. The website uses the latest security technology, including industry-standard 256-bit SSL encryption. We also employ top-notch algorithms and protocols, as well as software and services, to detect suspicious activity. Please note that our services are for adult customers only.
Cookies Files
When you use our site, we use cookies to distinguish you from other customers. It is also necessary to determine your preferences, as these cookies automatically collect all information relating to you. This helps us analyze your behavior, improve our services, and provide relevant advertising. Cookies also help us see how many visitors we have, the pages they are interested in, and how they interact with our facilities. You may not consent to our use of these files in your browser settings.
Third-Party Usage of Information
We do not share, sell, or trade personal data about our customers to third parties. However, there are cases where this is necessary for some objective reasons:
As required by law or by authorized persons;
To protect the interests and rights of the company;
To comply with a lawsuit or legal obligation;
When a fraudulent activity or any illegal behavior is detected;
To protect the rights of other clients;
When an attempt is made to break into a security system;
When malicious programs or systems are used;
When detecting payment fraud, illegal banking, money laundering, credit card theft, and so on.
The Aussie Play Casino website may contain links to other sources over which we have no control. We are not responsible for your actions or your safety when you follow such links
Contact Us
If you need to ask questions about the current rules of the privacy policy, address security concerns, send a complaint or make suggestions, contact us at Email assistance@aussieplay.com.