Responsible Gaming
Aussie Play Casino is an official representative of gambling products in Australia and is operated by Wonder Play Company N.V. As such, we conduct our business in accordance with the rules of responsible gaming, and we expect the same from platform users. Our efforts are aimed at ensuring that players do not suffer from gambling addiction and can get help if they need it. Thanks to the available Responsible Gaming Site features, you can limit your time in gambling and thus protect yourself from addiction.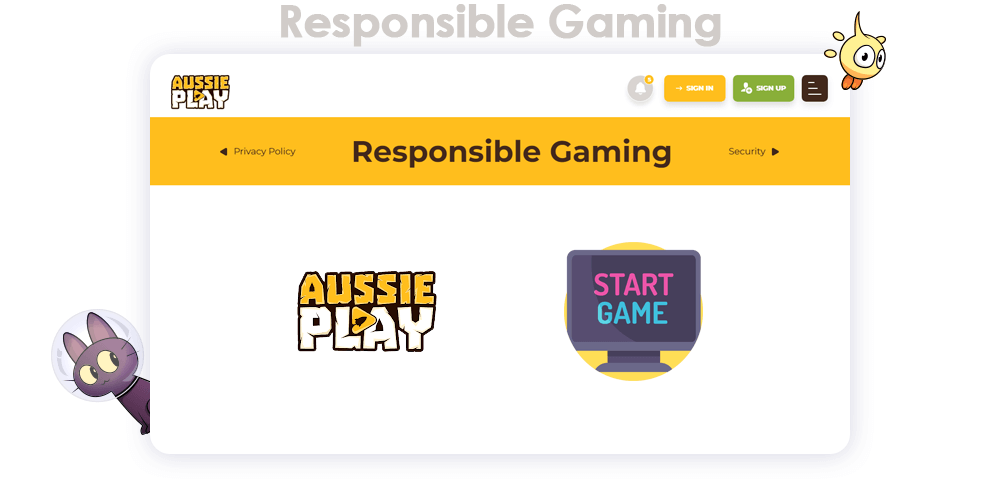 Responsible Gaming: Self-Exclusion
All of the official site's gaming products and services are designed to be fun and entertaining. But sometimes it can have negative consequences financially or on the mental health level. Today, gambling addiction is a serious problem that many people dread. We do our best and work hard to keep online platform users safe from the negative consequences of gaming, including developing countermeasures to reduce the likelihood of addiction. In this regard, we offer a self-exclusion feature for self-monitoring players. This is also a great way to help yourself for those diagnosed with a gambling addiction.
With this feature, you exclude yourself from gambling for a certain period of time. The possible duration is from 6 months to 5 years, you need to contact customer service to extend it. Within the period of self-exclusion, you will not be able to register a new account or cancel this function.
Tips for Responsible Gaming
To protect yourself from the negative effects of gambling, we have prepared a list of effective tips:
Set a limit of funds that will not bring you financial harm;
Set a limit on deposits per day, week, and month;
Do not try to win back if a loss comes after a loss;
Place small bets, which will not bring you financial losses;
Play only for recreational purposes;
Do not make gambling a way to earn money;
Set a time limit for playing;
Don't make betting your main hobby, try to find other entertainment;
Do not gamble when you are stressed, under the influence of alcohol or drugs or when you are depressed;
Do not gamble while under the influence of medications or while sick;
Take breaks between games;
Do not create more than one account on a gambling platform.
If you can't cope with the urge to gamble, contact our customer service team for assistance.
Contact Information
We offer help with gambling addiction. The platform has a support service where you can go for advice or ask for assistance. At the moment, you can contact the customer service specialists by email at assistance@aussieplay.com. Any personal information will not be shared with third parties without your consent or request. If you are hesitant about contacting experts, you can take an addiction self-test.
Protecting Underage Users
The online platform has strict rules, under which only adult customers are allowed to use the services and products of the website. To avoid situations in which your data might be accessed by persons under 21 years of age, please keep it private and do not share it with such individuals. We strongly advise you to use website filtering programs to prevent children and minors from accessing gambling platforms. We conduct frequent document checks on our users to verify their identities. If it is discovered that an underage player has an account on our website, it will be canceled and the profile will be immediately blocked without the possibility of recovery.